The Usui family (雨水) is a human family in Chibi Vampire / Karin manga and anime.
Fumio Usui and her son Kenta moved to Shihaba city (椎八場市) after Kenta's birth, when Fumio was still in highschool. At that time, her mother still lived in an "A" prefecture in Touhoku region (東北地方).
When Kenta was transferred to Shihaba First Highschool (椎八場一高), he met Karin Maaka and discovered her secrets. During the time living in Shihaba, Yonehara (米原) approached Fumio, informing her that he had been sent by her mother, and by coincidence, Shuusei Iizuka, Fumio's former lover and Kenta's father, also met Kenta. Fumio found that Shuusei had become more reliable and independant and that he was working hard for his current pregnant lover. The pair parted, and Yonehara returned to report to Fumio's mother.
In the time progress, Fumio was informed that her mother had become gravely ill and she decided to go back to her old home to visit her mother, which might have been the last time she could do so. Kenta, already Karin's boyfriend and needed to care for her problems, decided he would not return there then.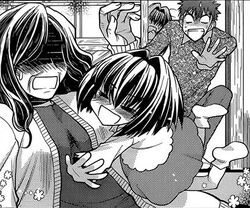 After Karin was kidnapped by
Yuriya Tachibana
,
Glark
and
Brigitte Braunlich
, Kenta discovered that she was sent to the Yuuga valley (幽ヶ谷) at "A" prefecture, which was near to his hometown.
Henry
,
Ren
and he went to the valley to save Karin and succeeded.
Karin convinced him to see his grandmother once, since she had experienced the feelings of hopelessness back when she had been being imprisoned thinking that she would never have had a chance to return to her own family. Kenta agreed her request and went to visit his grandmother, and then knew that his grandmother never abandoned his old clothes and other things, which made him honestly warm.
Kanon Usui, Karin's and Kenta's daughter, in a bonus chapter, was seen to be hugging her great-grandmother (Fumio's mother), which suggests the family's relationship has already been close again.
Family tree
Edit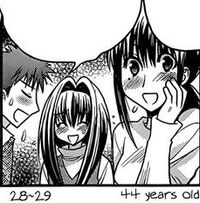 Bold names are used for characters originally from Usui family, bold and italic names are used for their direct descendants with different surnames, and italic names are used for the suspected members of the family.
↑

In the bonus chapters, it is revealed that Fumio's mother became distrustful to men since her divorce.