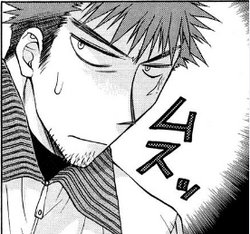 Shuusei Iizuka
(飯塚 修成,
Iizuka Shūsei
) is
Kenta Usui
's father. He and
Fumio
conceived Kenta while still in high school which enraged
Fumio's mother
. He was barred from contact with Fumio or Kenta. He and Kenta look very much alike, with the exception of a scar above Shuusei's left ear, shown in an omake to have been given to him by Fumio at a young age when she pushed him into a jungle gym. He locates Fumio and Kenta by following a detective named
Yonehara
(米原), who was charged to find Fumio by her mother, wanting to apologize for the past. He notes that he is dating a woman now who is pregnant, and he does not intend to repeat the mistakes he made with Fumio
Ad blocker interference detected!
Wikia is a free-to-use site that makes money from advertising. We have a modified experience for viewers using ad blockers

Wikia is not accessible if you've made further modifications. Remove the custom ad blocker rule(s) and the page will load as expected.