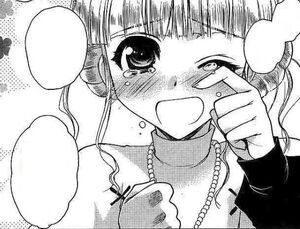 Sister Rosary (ロザリー, Rozarī) is the nun seen in the last chapter of the manga. She is friends with Frederick Marker.
Appearance
Edit
Sister Rosary wears a typical nun's garb. Her eye color is blue and hair color is blonde.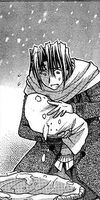 As well as the main series, chapter 58, the final chapter of vol.14 reveals the fate of the church which had hunted the Vampires in Europe causing them to flee to Japan. The chapter revolves around Sister Rosary, the last remaining member of the church and two descendants of the remaining members of
Elda Marker
's family left behind in Europe, Frederick and his aunt
Elga
.
She is the last member of the church that hunted the Vampires. For 3 years before the events of the chapter, Frederick Marker had been visiting the church and both had shared a common fondness for Japanese manga.
Rosary was the last remaining nun of the church having been adopted as a baby by the previous soul surviving member of the church Sister Alyssa. After Frederick's auntie tries to end the legacy of the church, she comes to understand that despite what Alyssa had taught her, not only were vampires not as extinct as the church had thought, but there were both good and bad Vampires as well. Despite the events between Frederick and his aunt, Frederick continues to visit Rosary after his auntie gives him permission to do as he pleases.
Her name ロザリー (romaji: Rozarī) might be romanized as "Rosalie".
Rosary is grateful for Frederick saving her as a baby. It was this fact that showed her vampires were not the evil beings she had been taught about.