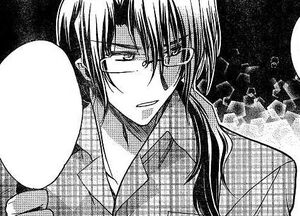 Frederick Marker
(フリードリヒ・マーカー
Furīdoriku Mākā
) is one of the vampires who still resides in Europe. He was revealed in the last chapter of the manga as a descendant of one of the surviving vampires left behind when the others fled to Japan. Due to his maternal grandfather (
Elga
's father) being
Elda
's brother, he is a second cousin of
Karin
and her siblings. He originally had met
Sister Rosary
three years before the storyline posing as a university student and had attended confession to confess he was an Otaku, to which the nun revealed she too was fond of Japanese manga.
In reality he was investigating the church to wipe out the last few remaining inheritance of its dark past. However, when Frederick's aunt tries to kill her, Frederick protects Rosary due to his fondness of her and a feeling of responsibility and reveals it was he who was the one who had found her as a baby in the freezing snow and took her to the church in the first place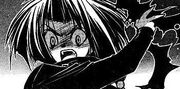 Elga is Frederick's maternal aunt, a surviving member of the Marker family in Europe revealed in the last chapter of the manga and also a relative to
Elda
and Karin whom she resembles greatly. She sent Frederick to investigate Sister Rosary after she inherited the legacy of the Vampire hunting church from Sister Alyssa. However, after Frederick refuses to kill the last member of the church, she attempts to take Rosary's life herself only to find her nephew Frederick had decided to protect Rosary. After he reveals he is responsible for Rosary entering the church in the first place, she leaves him to do as he pleases
Ad blocker interference detected!
Wikia is a free-to-use site that makes money from advertising. We have a modified experience for viewers using ad blockers

Wikia is not accessible if you've made further modifications. Remove the custom ad blocker rule(s) and the page will load as expected.