The
Braunlich
family (ブラウンリック
Buraunrikku
) is a vampire house that originally resided at Europe but came to Japan in 200 years before the main story (17th-18th century). The first known member, chronologically, was
Karin
's maternal grandfather
Daniel Braunlich
.
In the last arc of the manga, the Braunlichs acted as antagonists who want to take control of the current generation's Psyche (i.e. Karin Maaka).
Family tree
Edit
Bold names are used for characters originally from Braunlich family, bold and italic names are used for their direct descendants with different surnames, and italic names are used for the suspected members of the family.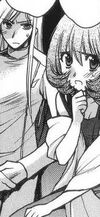 Known relatives
Edit
The in-laws
Edit
Bräunlich ("brownish") is an uncommon surname in German.
Ad blocker interference detected!
Wikia is a free-to-use site that makes money from advertising. We have a modified experience for viewers using ad blockers

Wikia is not accessible if you've made further modifications. Remove the custom ad blocker rule(s) and the page will load as expected.